Giving back


---
Nyenrode Fund
The mission of Nyenrode Fund (in Dutch: Stichting Nyenrode Fonds, or SNF) is to invest in the past, present and future of the university:
The fund makes money available for maintaining Nyenrode's past, such as its monuments, heritage and traditions.

To support the education of the present, Nyenrode Fund invests in the quality of the university's educational facilities.

Nyenrode Fund also contributes to the future by providing scholarships for students who otherwise would not have the financial resources to study at Nyenrode.

In 2008, Nyenrode Fund was awarded Public Benefit Organization status (in Dutch: ANBI status). This status means that at least 90% of Nyenrode Fund's efforts must be focused on the common good. It also means that donations to Nyenrode Fund are generally tax-deductible.
Impact
In 2019, Nyenrode Fund generated a total of about a quarter million euros in donations and subsidies.
At the moment, Nyenrode Fund has 55 periodic donations, most of which are given for scholarships and heritage.

We received various contributions for scholarships. A number of former scholarship students started donating to make a scholarship possible for new talents.
Three students received scholarships for the BSc in Business Administration program. These scholarships were made possible by alumni from the NOIB (Dutch Training Institute for Foreign Enterprise) class of 1958 (Mijer Fonds), the BBA class of 1976 and Annerie Brenninkmeijer.
Six students received scholarships for the Full-time MSc in Management program. Their scholarships were funded by donations from the classes of 1956, 1958, 1977 and 1985, Marcel Fennis and the American Friends of Nyenrode University (AFNU).
Nyenrode Fund received a donation of €110,181.10 from the Province of Utrecht (Fonds Erfgoedparels) for maintenance of the garden wall and kitchen garden of the monumental vegetable garden complex at the estate.
In 2019 we ran a major Claim Your Chair campaign. This yielded more than €25,000 for the upgrading of our study facilities.
During the final months of 2019, our focus was on a grant application for the castle. Unfortunately, the grant was denied in March 2020.
Thanks to our highly engaged alumni, Nyenrode Fund contributed over €20,000 for the rugby field lighting. This makes it possible for students to do sports outdoors during the wintertime. Nyenrode has a long history in sports, as we believe in supporting a healthy mind and body.
Following the restoration of the aviaries in the menagerie complex on the estate, in the summer of 2020 we were able to welcome various pheasant species, including the Reeves's pheasant, (yellow) golden pheasant, Lady Amherst's pheasant and blue eared pheasant. The animals were donated by Stichting Bouwstenen voor Dierenwelzijn and alumni of the 2018-2019 Executive Modular MBA. The cultural and historical value of the menagerie lies not only in the buildings, but in their use specifically. As such, the goal of the restoration was also to reintroduce the unique pigeon, duck and pheasant species that were once kept here at Nyenrode. The menagerie restoration project was made possible in part by financial contributions from the Province of Utrecht (Fonds Erfgoedparels), the Prince Bernhard Culture Fund and the Gravin van Bylandt Foundation.
In addition to the above, Nyenrode Fund facilitated some smaller projects as well.
Tanja Visser steps down as Director of Nyenrode Fund
In the spring of 2020, Tanja Visser stepped down from her role as director of Nyenrode Fund (Stichting Nyenrode Fonds or SNF) after four years. Heleen van Hall, Head of Alumni & External Relations, took over her duties for the time being.
Tanja Visser: "I am extremely grateful for all the inspiring people I have met, the places I have visited, the hospitality that has been extended to me and all of the projects we managed to get off the ground."
Emergency Fund for Students During Coronavirus Crisis
In spring 2020, Nyenrode Fund (Stichting Nyenrode Fonds or SNF) set up an emergency fund to help students who are in financial distress due to the coronavirus crisis. With this initiative, Nyenrode Fund aims to help current (international) students while also making more funding available for scholarships for prospective students so that they can still start their studies at Nyenrode in the near future.

Thank the Donor Day
During the annual Thank The Donor Day, Nyenrode Fund thanked all alumni and other donors who have contributed to the university's success. The scholarships were also officially awarded to the students on this day. In 2019, Thank The Donor Day was combined with the celebration of Nyenrode's Dies Natalis, the 73rd anniversary of the university.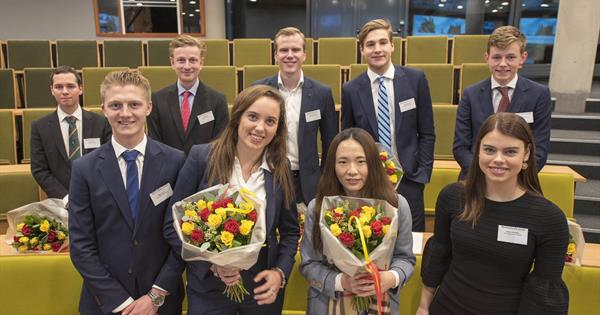 Sometimes I hear that as part of SNF – together with

lots of help from others – I have brought about a major change in someone's life. - Tanja Visser, Former Director Nyenrode Fund.
Legacies
Even after their death, alumni can make an important contribution to Nyenrode by including Nyenrode as a beneficiary to their estate. Thanks to its ANBI-status, Nyenrode Fund does not have to pay inheritance tax on estates, which means that 100% of donations benefit the goals of the Fund.
American Friends of Nyenrode
American Friends of Nyenrode University (AFNU) is a North American organization of alumni and friends of the university whose main goal is to support the university's educational purposes and raise funds for revolving scholarships for current and future Nyenrode students. There are more than 800 Nyenrode alumni in North America.
AFNU:
organizes and sponsors university connectivity between alumni, faculty and the administration
coordinates activities in North America to promote Nyenrode Business University
raises funds for student scholarships
and maintains a database in North America.
AFNU holds 501(c)(3) status, which may make donations to AFNU deductible for US taxpayers. Nyenrode supporters outside of North America can also donate. In 2019, Sander Spierings was installed as the new chair.
For more information: http://afnu.net/ or contact info@afnu.net.