Financial Programs
---
Marlies de Vries appointed Program Director of Controlling programs
As of May 1, 2020, Marlies de Vries has been appointed Program Director of the Controlling programs at Nyenrode. She succeeds Jan Bots, who retired on that same date. Bots will remain affiliated with the Post-Master in Controlling as a freelance lecturer.
Awards and Excellence
VRC Thesis Award
On May 12, 2020, Koen Derks won the 2019 VRC Thesis Award for his thesis titled "The franchise factor: the relationship between entrepreneurship and revenue growth at Jumbo Supermarkets (in Dutch: The franchise factor: de relatie tussen ondernemerschap en omzetgroei bij Jumbo Supermarkten)". VRC chairman Albert Gagliardi: 'The Thesis Award shines a spotlight on the talents of the future. The finalists not only have the highest level of knowledge in the area of financial management, but they often have an innovative take on the solution as well.'
The winner of the 2018 VRC Thesis Award was announced during the Association of Register Controllers (Vereniging van Registercontrollers, VRC) conference on May 21, 2019. Anne Pietersma MSc RC won the award for her thesis titled "Mind your gap: airport fees, regulations and two-sided markets".

Koen and Anne wrote their theses for the Executive Master of Finance and Control (EMFC) at Nyenrode. 
Brenda Westra Opinion Award
On October 4, 2019, Arjan Kraai won the 2019 Brenda Westra Opinion Award for his opinion piece 'Het Zwarte Envelopje, Fraude als speerpunt in de accountantsopleiding' (The Black Envelope: Fraud as a priority area in accountancy training). Mike Zuyderduin came in second place, and Mike Broekhof came in third. The nine candidates were students and alumni of the Nyenrode accountancy program. The award is a collaboration between Nyenrode and Stichting Future Finance, a foundation which was set up by Brenda Westra. In 2019, the Royal Netherlands Institute of Chartered Accountants (NBA) renamed its Brenda Westra Foyer in honor of this "rebel accountant", who passed away in 2015.
Excellent accountancy students meet Miša Džoljić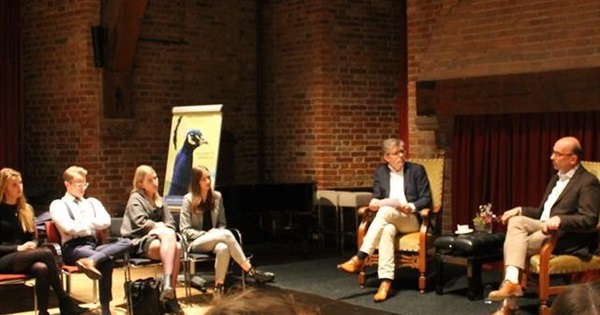 Every year Nyenrode organizes an event for the students who have completed a study phase with the highest average grades. On December 10, these students met their Rector Magnificus, Miša Džoljić. He told them about different types of stress, drawing on knowledge from his medical background. The students interviewed the Rector about choices he has made and his experiences as a student, teacher, doctor and administrator. Read: Je bent al snel bestuurder van jezelf (You quickly become the director of your own life) (in Dutch).
Program developments

Data Science in Auditing  
Data science is playing an increasingly important role in accountancy. Which types of big data can provide audit comfort according to auditing standards, and which types only provide false assurance? To prepare students for these developments, the Data Science in Auditing course was added to the curriculum of the Master of Science in Accountancy program in the spring of 2020.  

EMFC: Real need for focus on IT and data
From February 2020, IT and data will be an important element of the Executive Master of Finance & Control at Nyenrode Business University. Data Science will no longer be an elective of the EMFC program, but a mandatory subject. In addition, the Accounting Information Systems IT, Data & Control program has been extensively modernized. The corona pandemic has proven that this decision was taken at exactly the right time. "I am convinced that the controllers that we are training now will be better able to make quantitative assessments of how an organization can survive a crisis like this," says Jacques de Swart, Professor of Applied Mathematics.
Premaster Fiscal Law
In 2019, the curriculum of the premaster Fiscal Law was changed. The change mainly consisted of the addition of legal subjects such as Criminal Law, Constitutional Law, and International and European Law. The number of credits was also raised to 66 ECTS (previously 39 ECTS). Consequently, the maximum course duration was extended from 1 to 2 years. The Master program has not changed.
Internationalization of Accountancy program 
Nyenrode would like to pursue further internationalization of the Accountancy program. There is also an increasing demand for this within the professional field. That is why in May 2019, a group of students in the Master in Accountancy program took the Advanced Research Course in Accountancy (ARCA) in English for the first time. Each of the 11 participants wrote their Master's thesis in English as well. They were awarded a special certificate for this achievement. 
Finance Professionals
Collaboration with OrangeOnly for young finance professionals
On July 28, 2020, OrangeOnly and Nyenrode Business University signed an agreement for long-term collaboration focused on the development of young finance professionals. As part of this partnership, early career professionals will be offered a traineeship at OrangeOnly in combination with the RC program at Nyenrode. Depending on their prior education and work experience, the trainees will follow the (Pre-)Master of Science in Controlling or the Executive Master of Finance & Control.
From passion to dream job
For the financial episode of the vlog series "From passion to dream job" (Van passie naar droombaan, in Dutch) on RTL4, vlogger Emma paid a visit to Nyenrode and spent the day with Bachelor in Accountancy student Esmael Zamani.
New editorial team and website for The Accountables

On March 1, 2019, The Accountables (in Dutch), the leading platform created by and for accountancy students, made a fresh start with a new editorial team and an updated website. The Accountables features articles, interviews and opinion pieces in which young accountants share their views on the themes of Culture, Society, Professional Expertise and Personal Development.
Retraining program to solve staff shortages in the financial sector
Nyenrode and Hogeschool Windesheim are collaborating on the development of a retraining program for non-financial graduates who want to retrain as accountant or controller. Labor market tightness in respect of financial personnel requires smart solutions. This retraining program Accountancy & Controlling prepares participants for a specialist Master program.