Business Programs
---
BSc in Business Administration starting in Amsterdam
Starting this year, BSc in Business Administration (BScBA) students can choose to either study in our capital or in Breukelen, on the campus. The BScBA is focused on academic and personal development. Students follow courses on aspects of business management, but also practice debating and learn more about sustainability and innovation. During their studies, the students follow a Personal Development Journey program, to challenge themselves and discover what they want and what risks they are willing to take, and to develop their personal leadership skills. Sport and exercise are also part of the curriculum, and students take part in an international exchange.

First graduation BSc in Business Administration
On Friday September 20, 2019, the first 20 students of the BSc in Business Administration (Class of 2016 – 2019) graduated. They celebrated their graduation together with their families, friends and members of the Nyenrode community in the Koetshuis.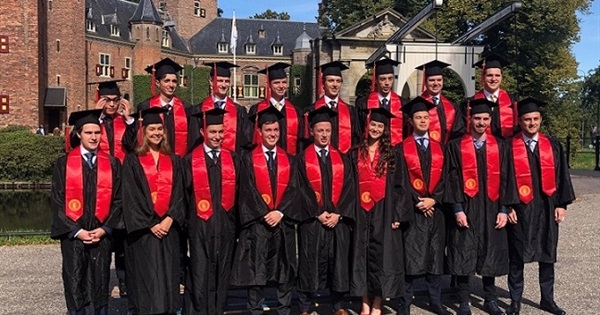 Personal Leadership and Career Development in Full-time MSc in Management
The Personal Leadership and Career Development (PLCD) journey, part of the curriculum Full-time MSc in Management program, was expanded in the academic year 2019-2020 (from 2 ECTS to 5 ECTS). The overall goal of the journey is to deliver graduates who are ready for their first jobs as MScs; the aim is to support them in discovering and developing who they are, become self-aware and self-confident, and acquire the right skills for teamwork, project management and consultancy. Moreover, we help them learning to prioritize, know when to adapt to the situation and when to stand up for their opinions.
Full-time MBA
The Full-time MBA would normally include five European Immersion Modules: this year the plan was to visit Prague, Bologna, Madrid, Copenhagen and Valencia. Unfortunately, due to the corona pandemic the program had to be adapted. For instance, a Dutch immersion was organized for the course Digitalization & Innovation. Circular Economy & Sustainable Development was transformed into an online course and for Organizational Leadership & Talent Management, the lecturer created a new and very relevant "red thread" throughout the course instead of a trip, namely "Leadership in times of crisis". Big Data Analytics and HRM are new foundation courses in the program and we have a new elective week: New feature how?

Modular Executive MBA: New Business & Sustainable Transitions track
Since 2020, the Modular Executive MBA at Nyenrode has a new track: Business & Sustainable Transitions. Businesses can no longer ignore the fact that they have to think about the sustainability of their strategy and the way they do business. Central questions are: How do you deal with global problems in the field of climate, energy, food and health from a corporate perspective? How do you take along your business on the journey of transition to sustainability?